GB START : JUNE 15, 2023
GB END : JUNE 30, 2023
ETA : Q3-Q4 2023
314.77mm x 136.2mm x 18.7mm
Transparent Electrophoresis Brass
Leaf-spring material
Stainless Steel + phosphor bronze
Bluetooth version battery capacity
Wired Soldered PCB
BLE Hotswap PCB
Wired Hotswap PCB
64 Hotswap PCB
EC capacitive PCB
Ano Silver
Ano Red=
Ano Black
Ano Navy
Ano Grey
E-Retro White
Brass Weight & Battery cover
PCB + daughterboard (capacitive PCB incl. domes & sliders)
Greetings, esteemed Retro Gang! Allow me to introduce ourselves, MM Studio, the craftsmen behind bespoke retro keyboards that reflect the nostalgia of a bygone era. Our moniker, MM, denotes "Minimal Makeover," an emblem of our ethos to blend modernity with minimalism.
Our desire was to create a retro-inspired keyboard design that incorporates the latest technological advancements, and the Class Series keyboard is a product that symbolizes retro and minimalism.
Our community's adoration of our previous projects and their endorsement of our merchandise fills us with humility and gratification. It also fuels our pride in accomplishing each project in less than four months!
Today, we are proud to unveil our latest creation – the Class60.
Origin of Retro custom keyboard-MM Class60
During the brainstorming phase for our latest undertaking, our designer serendipitously stumbled upon an ancient manuscript regarding the Symbolics Computer, and therein, the inspiration for the Class60 was conceived.
We've meticulously crafted this keyboard to invoke a vintage aesthetic while integrating contemporary functionality. From the ergonomic keycaps to the durable metal frame, the Class60 exudes a sense of nostalgia while preserving the functionalities of a modern-day keyboard.
We take immense pride in our artistry and attention to detail, and we believe the MM-Class60 Retro Custom Mechanical Keyboard will evoke a sense of sentimentality and function in our customers.
About 60 Custom Mechanical Keyboard-Class60
0. Features:
In Short – The Class60 is a Leaf-spring/Top dual mounting 60% Keyboard, we kept the beloved Buzzer & Solenoid feature from the previous board the Class80 and on top also added the support for QMK&VIAL compatible capacitive PCB (we use the "T" word) and an optional wrist rest to enlarge the chin of the keyboard.
1. Aesthetics & Design
1.1.Size: 31.47cm length and 13.62cm width and the front is sloped with a height of 18.7-21.1mm
1.2.Top Case options: WK/WKL/HHKB top case available
1.3. Color Options: E-Retro white, Ano Red, Ano Silver, Ano Black, Ano Blue, Ano Grey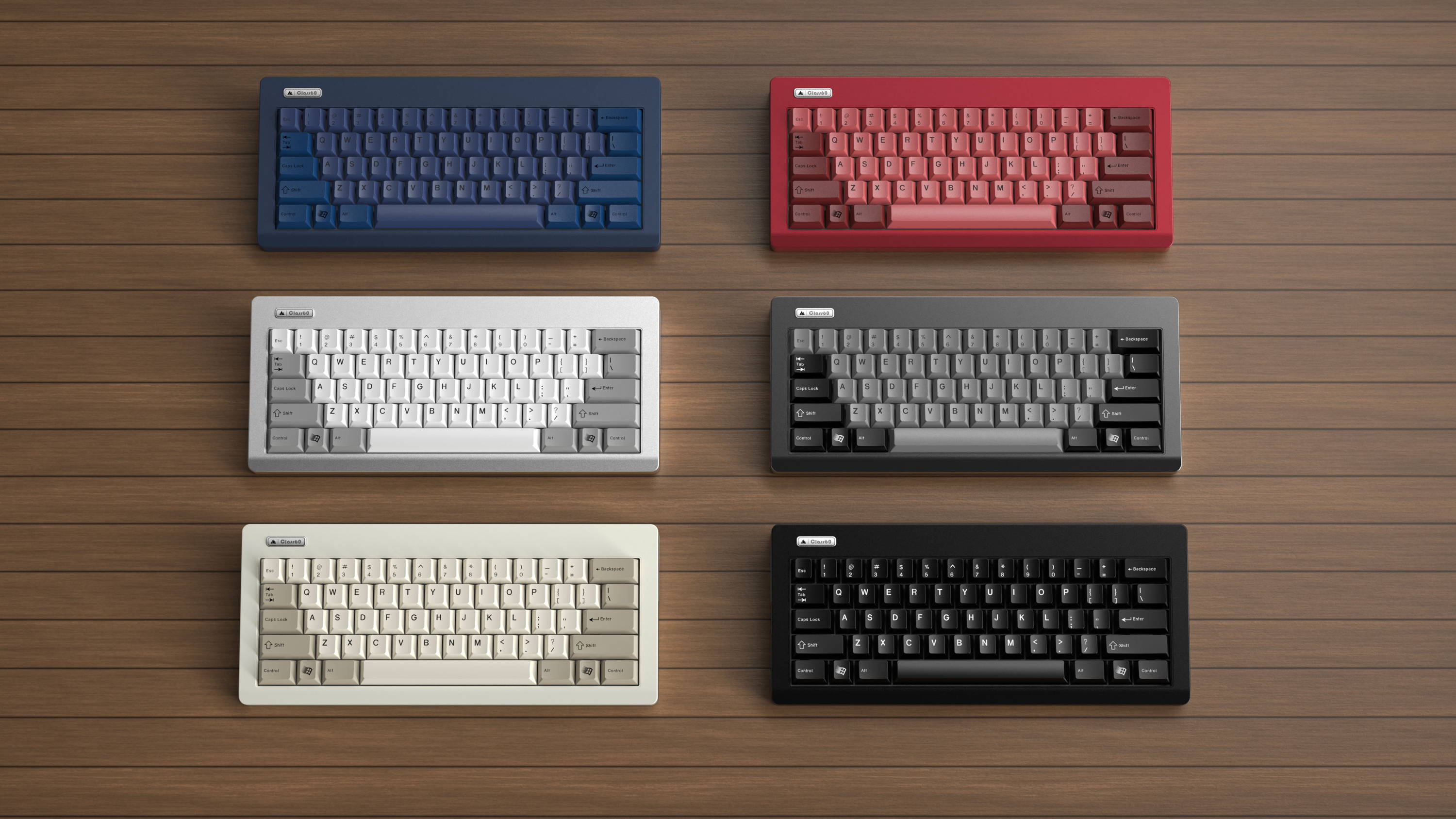 1.4.Badge: The front Stainless Steel badge with print a mountain-like "M" with the Class60's name (may vary slightly in production)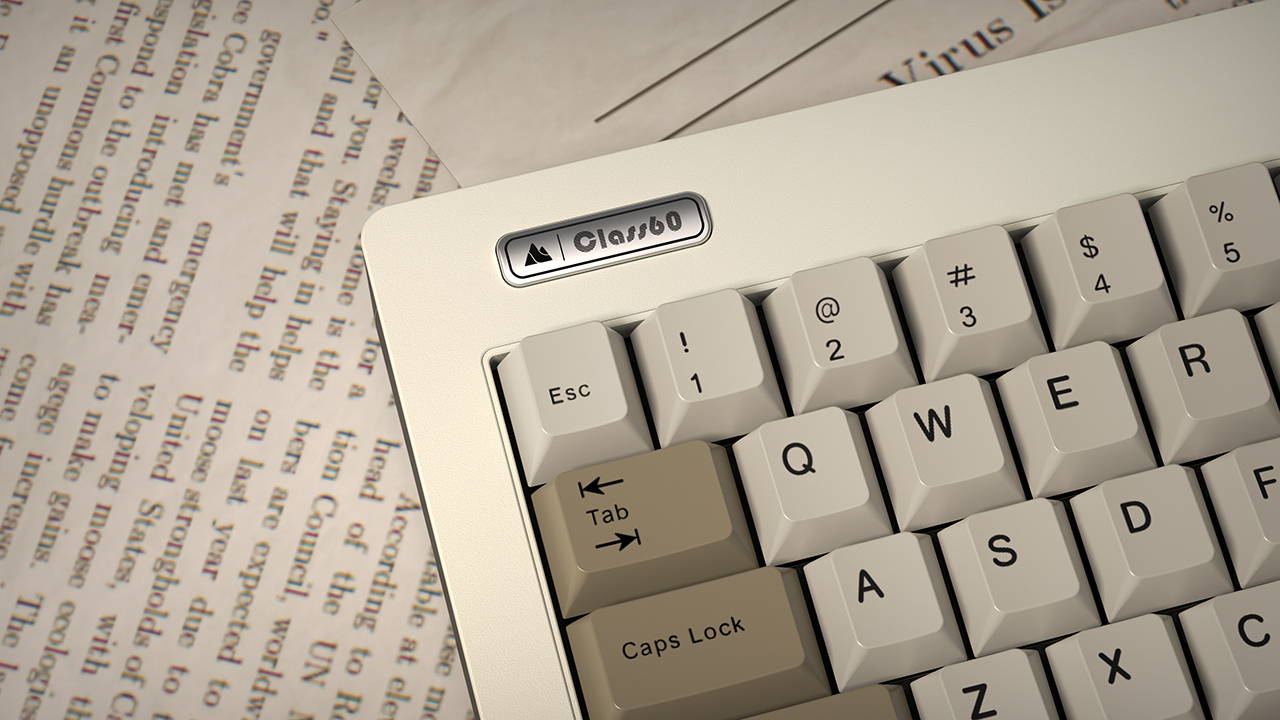 1.5. Weight options: currently Mirror Black PVD SS or Sandblasted Black PVD SS – tell us if you want see more options.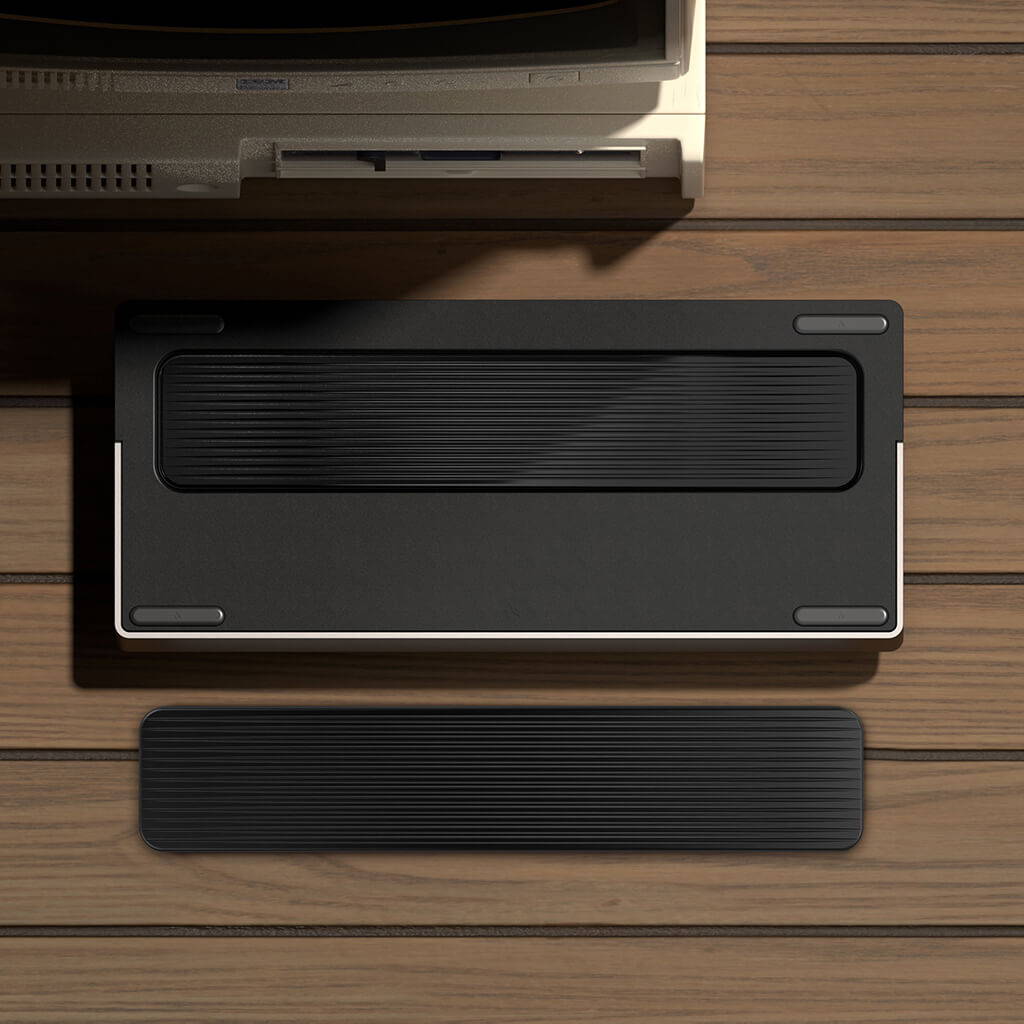 2. Internals:
As mentioned briefly before, Class60 supports leaf-spring mount and top mount. We kept the Buzzer/solenoid and added capacitive PCB support. And of course, how can we leave out the plateless build, which is already tradition in our boards.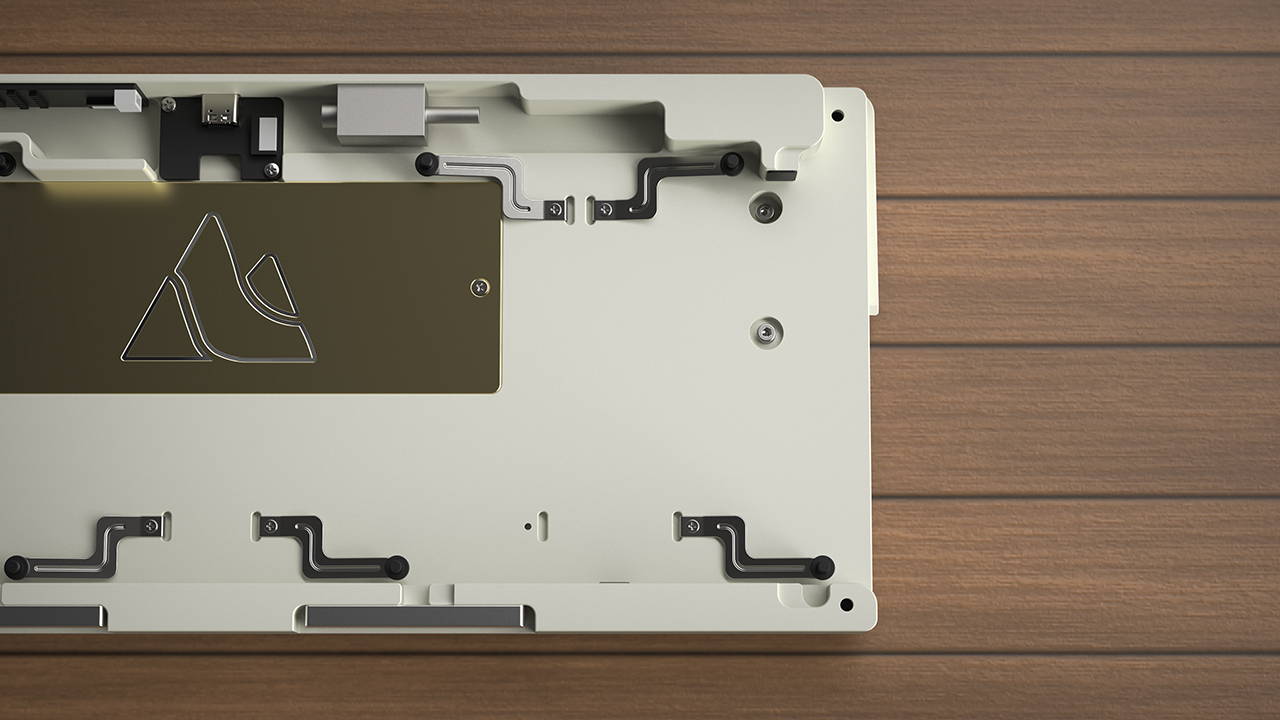 2.1 PCB:1.6mm PCB with no flex cut, 5 different PCB are available:
· Wired Soldered 60%
· Wired Hotswap 60%
· Bluetooth Hotswap 60%(3100mAh)
· Wired Hotswap left-shifted 64% (60% with arrow keys)
· Wired Capacitive PCB (including everything except keycaps in the capacitive version base kit; the PCB supports dsk, niz, topre standards, The default slider are MX compatible).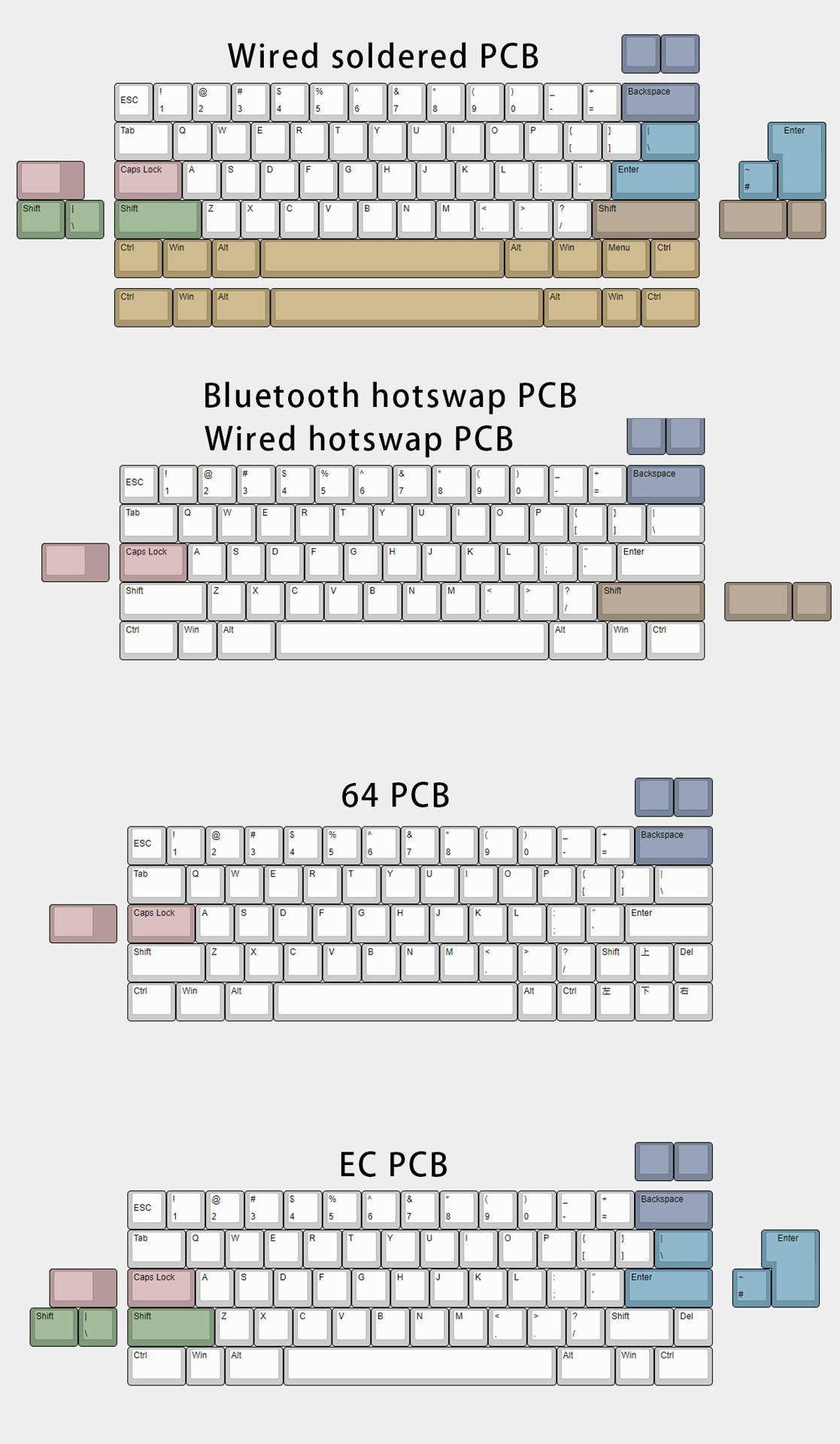 2.3 Plate options:
Left shifted 64% plate: PC only
Capacitive PCB plate: Alu only (2 options: Split BS or 2u BS)
(Please notice that the Capacitive PCB plate only compatible with the layout on the chosen plate, and the two plate options we will provide support split BS/2U BS and step Caps. If you would like to have other layouts like ISO, you need to make your own plate, of course we will provide plate files)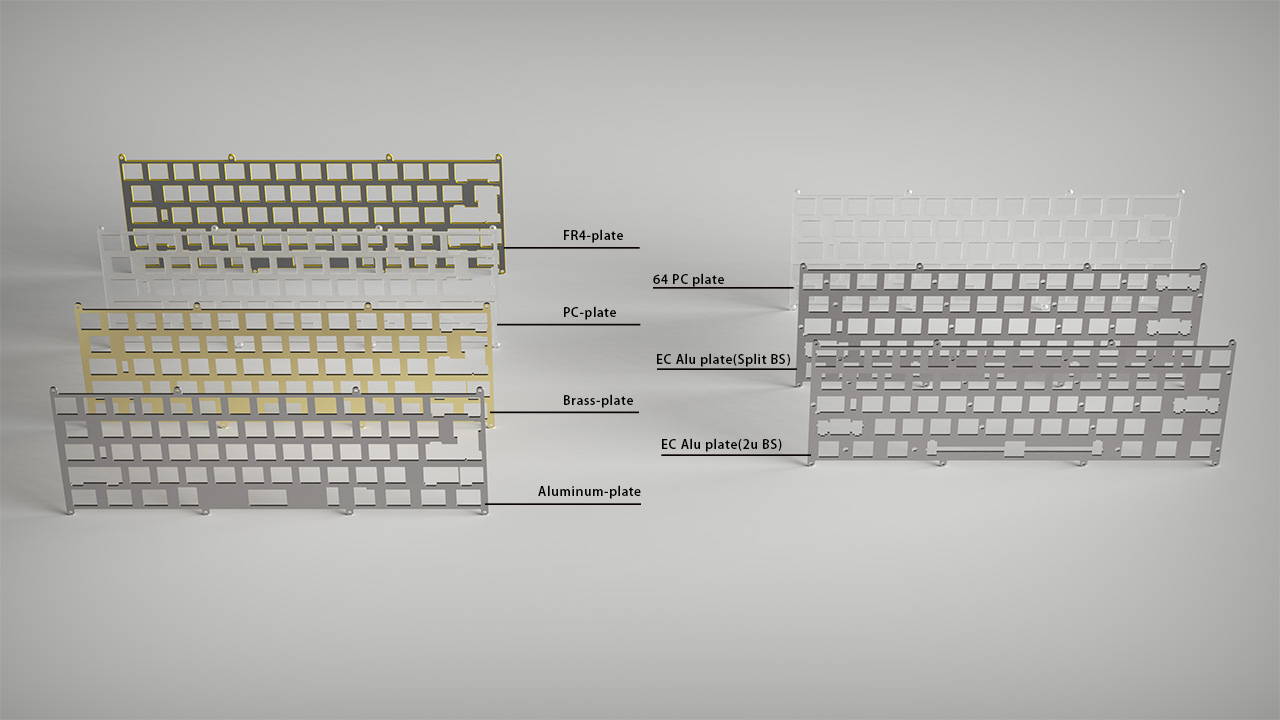 2.4 Wrist rest (optional): The wrist rest is made of Polycarbonate + Alu, is magnet-guided and attaches strongly to the magnets on the slope of the chin, 6 different colors will be available, matching the colors of the top case.